2006 Hawker 850XP S/N 258800 #N269AA
Specifications:
FOR SALE / FOR LEASE
Highlights
2,390 Hours Total Time
Engines & APU Enrolled on MSP Gold
2020 New Paint
ATG-5000 WIFI
ADSB-Out V2
Pulselight & Emergency Lighting Systems
Aircell ST-3100 Phone System
Part 91
Based in Miami, FL
Airframe
2,390 Hours – 1,480 Cycles (As of August 19, 2020)
Engines
Honeywell TFE731-5BR-1H – Enrolled on MSP GOLD
Right Engine: 2,385 Hours
Left Engine: 2,293 Hours
APU
Honeywell GTCP36-150W – Enrolled on MSP GOLD
2,970 Hours
Maintenance:
12-Year Inspection c/w September 2018
Landing Gear OH c/w September 2018
Flightdocs Maintenance Tracker
B-RNAV, RVSM
Part 91
Avionics
Four-Tube Collins Proline 21 Avionics Suite with:
Dual FMS-6000
Dual Collins GPS-4000A
Dual Collins NAV-4000
Dual Collins DME-4000
Collins ADF-462
Dual Collins VHF-4000
HF-9031A w/ SELCAL
ALT-4000 Radio Altimeter
Dual TDR-94D Transponders
TCAS-4000 TCAS-II w/ change 7
TWR-850 Turbulence weather radar
Honeywell Mark V EGPWS
Artex CVR-120
Artex C406-2 ELT
ADSB-Out V2
Aircell ST-3100 Satcom
Exterior
New in 2020. Overall Matterhorn white with blue and grey stripes.
Interior
Original 8-Passenger excellent configuration with an executive 4-seat club, a 3-seat couch, a single seat, and a 9th seat with the belted lav. All seats have light beige leather. Headliner is light beige fabric. Cabinetry has a high gloss Bubinga woodwork with brushed bronze plated hardware. A forward galley with a deluxe refreshment center includes a coffee machine and a microwave.
Airshow 4000 system with CD/DVD players with two 15" monitors
110-volt AC outlets
ATG-5000 WIFI
Specifications:
| | |
| --- | --- |
| Manufacturer: | Hawker |
| Model: | 850XP |
| Year: | 2006 |
| Total Time: | 2390 Hours |
| Serial #: | 258800 |
| Location: | Miami |
| Reg #: | N269AA |
| Price: | $2,900,000 |
Information Request
For Specs. & Photos of Aircraft On-Market Hawker 850XP Aircraft
please enter contact details which will never be sold or used for any other purpose.


+1 310-980-9069
Prices of Private Jet Charters Expected to Rise, Availability and Experience Quality to Decrease Due to Growth and Consolidation of Jet Charter Business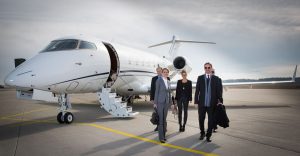 Increasing Use of Sustainable Aviation Fuel for Private Jets Expected to Motivate More Buyers
Increasing Use of Sustainable Aviation Fuel for Private Jets Expected to Motivate More Buyer...
Twice as Many First-Time Buyers Looked for Private Jets at End of 2020 vs. 2019
Pre-Election Indecision, Continuing Covid-19 Concerns, and Tight Supply of Pre-Owned Aircraft Drive Up Demand for Private Jets in Q4 2020
The Private Jet Company (TPJC) - Pre-election anxiety about the possible end of Trump-era bo...