2006 Cessna Citation CJ3
Specifications:
2006 Citation CJ3 – N525B-0087 – N188TW
DETAILS AS-OF: January 26th, 2020
3212 Hours
TAP Elite ( $149.94/hour/engine)
2107 Cycles
ENGINES:
Williams International FJ44-3A
Engine #1  S/N 141183     3212 Hours / 2107 Cycles
Engine #2  S/N 141184     3212 Hours / 2107 Cycles
ELECTRONICS:
Collins Pro Line 21
Dual Collins RTU-4200 Radio Tuning Units
Dual Collins VHF-4000 Comms with 8.33 kHz Spacing
Dual Collins NAV-4000/4500 Navs with FM Immunity
Dual Collins DME-4000
Dual Collins ADC-3000 AHRS Computers
Collins HF-9000 HF Transceiver with SELCAL
Collins ADF
Collins ALT-4000 Radio Altimeter System
Collins FMC-3000 Flight Management System
Garmin GTN-725 GPS/Multi-Function Display
Collins GPS-4000S GPS Receiver
Dual Collins TDR-94D Mode S Transponders
Collins TCAS-4000 TCAS-II
Collins WXR-800 Weather Radar
Collins XMW-1000 XM Weather Receiver
BF Goodrich WX-1000E Stormscope
Honeywell Mark VIII EGPWS
Collins Pro Line 21 IFCS Autopilot
Aircell ST-3100 Iridium Satellite Phone
L-3 Technologies GH-3000 Standby Attitude Indicator
L-3 Technologies ADC-3000 Standby Air Data Computer
L-3 Technologies FA-2100 Cockpit Voice Recorder
Artex C406-N ELT with Navigational Interface
ADDITIONAL FEATURES:
Part 135
ADS-B Out
GoGo L3 Avance WiFi
Encore Style Entry Steps
Jeppesen Electronic Charts
Broadcast Graphical Weather Display
Safe Flight Angle of Attack
Cabin Display System
Locking Fuel Caps
Precision Flight Pulselite System
Flood Tail Light
INTERIOR:
The 7-passenger interior features a 4-place center club configuration and 2 seats located aft facing forward.  All seating is completed in beige leather.  The aft lavatory includes a belted flushing toilet.  Cabin furnishings include an extended right-hand forward refreshment center and dual executive tables.  All cabinetry is completed in a dark high gloss veneer with brushed aluminum hardware.
A B&D cabin information display system includes moving maps and flight data that is displayed on an 8.5" LCD video monitor located on the forward left-hand bulkhead.  Cabin electrical outlets provide power for laptops, mobile devices, etc.  Communications include an Aircell ST-3100 Iridium satellite phone with one handset in the main cabin and one handset in the cockpit.  Full interior refurbishment, including woodwork, was completed by Elliott Aviation in 2014.
EXTERIOR:
Upper fuselage and wings are White with lower fuselage painted Black and complimented with Black, Gold, Silver and Burgundy accent stripes.  New paint was completed by Elliott Aviation in 2014.
OTHER:
Three US Owners Since New
Doc 22 Inspection due July 2021
No reported damage history.
CAMP Maintenance Program
Cessna Indy Pre-Buy Assurance Inspection logged on Aug 6th, 2019 at 3094 hours and 2028 cycles.
Doc 35 and Doc 41 complied with concurrent with Pre-Buy Inspection.
NOTE: Specifications subject to verification upon inspection.
Specifications:
| | |
| --- | --- |
| Manufacturer: | Cessna |
| Model: | Citation CJ3 |
| Year: | 2006 |
| Total Time: | Upon Request |
| Serial #: | Upon Request |
| Location: | Upon Request |
| Reg #: | Upon Request |
| Price: | Make Offer |
Information Request
For Specs. & Photos of Aircraft On-Market Cessna Citation CJ3 Aircraft
please enter contact details which will never be sold or used for any other purpose.


+1 310-980-9069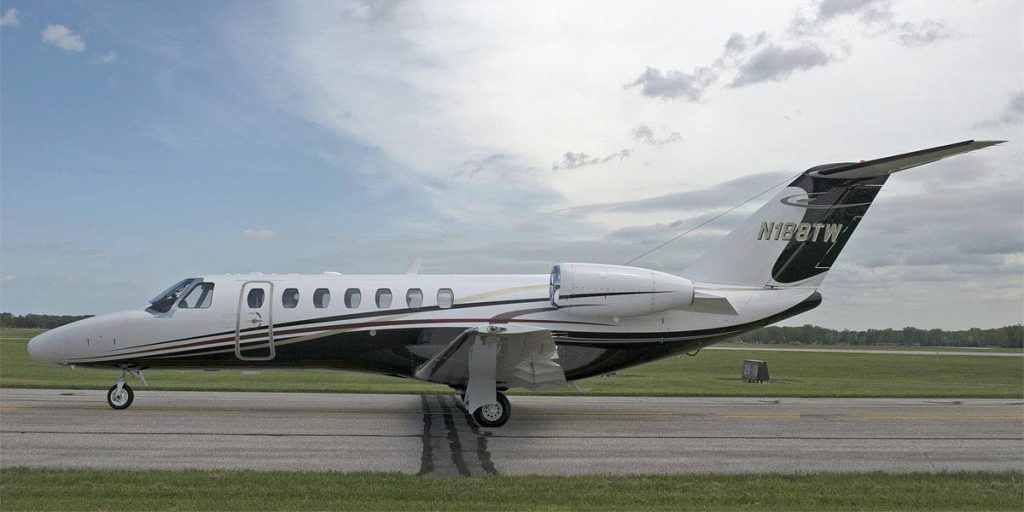 Don't Tell Pilots My Private Jet Is For Sale
Bloomberg – In The Loop : TPJC CEO Daniel Jennings discusses impact of cheaper oil on sale of private jets
https://www.youtube.com/watch?v=sOetMmAPSfY...
Bloomberg – In The Loop : TPJC CEO Daniel Jennings talks with Betty Liu about resale value of Gulfstream G650.
https://www.youtube.com/watch?v=ZmgDgfGWwiQ...
2022 is the Last Year for 100% Depreciation on a Private Jet Purchase, Increasing the Demand for Preowned Aircraft